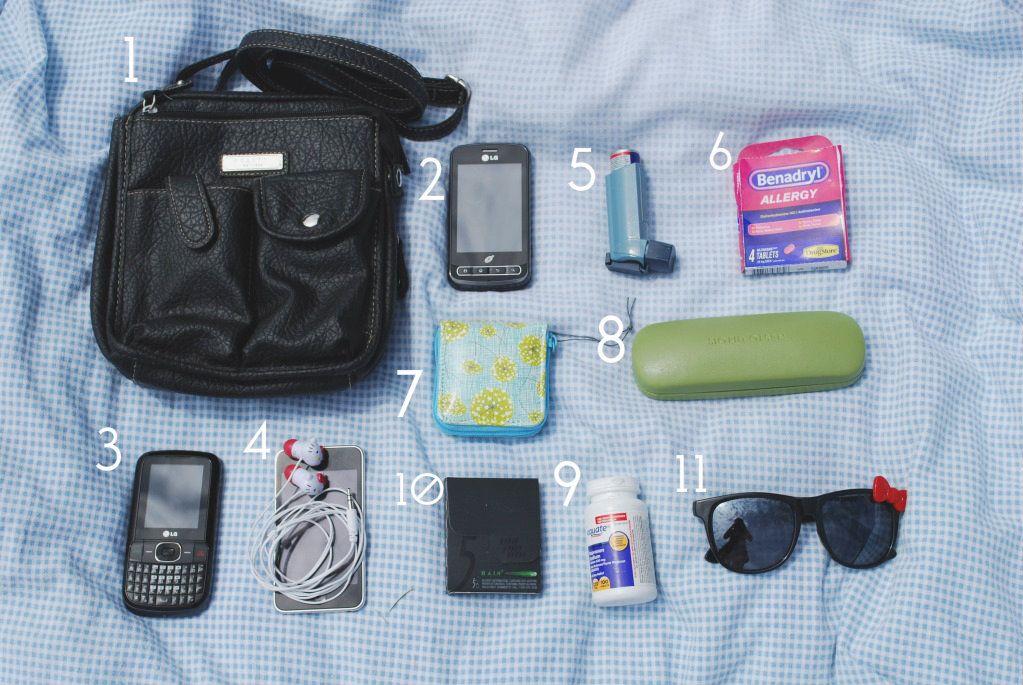 1. The purse :: This was actually at one point my Mom's purse, and once she got tired of it I knew I wanted it. I really love cross-body purses, and this is the perfect size.
2. My phone :: My goodness, I love this little phone. I never thought I needed a smart phone, but now that I have one I really love it.
3. My other phone :: This could get a bit confusing, but my usual phone doesn't get the best reception in some places around here, but this little TracFone does. So it goes with me when I'm driving, in case something goes wrong.
4. iPod Touch and Hello Kitty headphones :: I've had this little baby for a few years, and it really is the best. I'm basically just in love with Apple products, and will testify for them forever. This little thing has been through wars. And I love these headphones. They were a present from Hunter, and they're just too cute.
5. Inhaler :: I try and remember to bring this in my purse as much as possible. I haven't had an asthma attack in years, but sometimes I experience wheezing. So I bring it just in case I have to go through a candle aisle or something.
6. Benadryl :: Hunter likes to make fun that I'm pretty much a walking pharmacy, but lately my eyes keep puffing up and the only thing that helps is Benadryl so I've been carrying it around the past couple weeks.
7. Travel Contact Case :: How cute is this thing? Inside it has a little bottle of contact solution and a contact case.
8. Glasses :: I never used to carry these around, but when driving the moped sometimes my contacts dry out and I need them. So here they are.
9. Aleve :: See? Pharmacy. I get migraines a lot, so these are pretty mandatory sometimes.
10. Gum :: The current favorite gum around here lately is 5's Rain. I'm such a mint-lover and spearmint is my ultimate favorite!
11. Hello Kitty Sun-Glasses :: Are these cute or what?